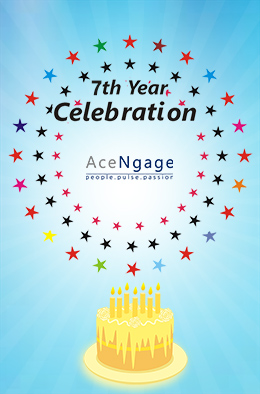 Woo hoo AceNgage has turned 7 and we are also proud to launch our brand new website www.acengage.com
The last 7 years have been immense learning for us. We believe the roller coaster has helped us realise our collective DNA. There were the usual mix of good, bad and ugly moments and now looking back each and every one of them were worth it. We learnt a few things along the way:
Hiring right means…insisting that our prospective employee evaluate us a company and chooses us over other options
Our success depends completely on the people we hire. We are proud to have hired extremely talented people who have contributed immensely to our success story. Spending extra time during recruitment with every candidate goes a long way in one's ability to identify the best resource and vice versa

Tough times will pass…Hanging in there and watch sales funnel continuously
When trying to get business, we have to be perseverant. Most of our clients juggle multiple balls and it's up to us to continuously remind them. The definition of perseverance being 'persistence in doing something despite difficulty or delay in achieving success'.
Don't worry about who gets the credit…Contribution from every employee, vendor and customer was not equal but each one was extremely critical
It's always a team effort and collectively we all always win. As Harry Truman said "It is amazing what you can accomplish if you do not care who gets the credit."
Enjoying work is not a luxury or a post-work event…it is an integral part of work
It's entirely in our hands. However cliché it may sound, it is true that being happy or sad is always in our control. Situations and circumstances can create ups and downs, it's better to handle the situation than get emotional about it.
Cost management is mission critical…And should be the normal way of conducting business.
During these challenging economic times, managing expenses has increasingly become a priority for many entrepreneurs like us. Just reviewing your finances and examining each expense, no matter how small is a great starting point. You can never manage what you don't monitor & measure. Cost-savings is now a way of life and kicks in at the design stage
Overall it's been a great journey and we are aware that there are many more hurdles to cross. We thank everybody who has been involved and without your support we wouldn't have come this far.
8