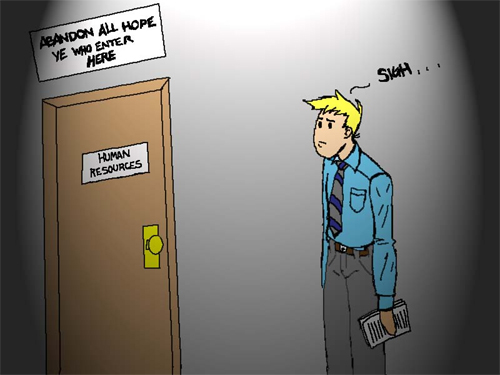 I feel sad and disturbed every time I read a joke or cartoon about the HR function. To me HR is and will always be among the most critical departments in any organisation and they are pretty much responsible to hold the company together.
Considering that they are involved from the first day to the last day of every employee's tenure they have to have some relevance, In spite of that they have very little credibility among the employees and are generally the laughing stock.
So what is the problem?
I believe they lack assertiveness; the strong desire to make a difference and don't put up a fight when they should. They are happy being relegated to a support function and basically have created an impression that that they don't stand up for the employees.
Now while I have generalised this, I also have several friends in the HR fraternity who are extremely passionate about their work and genuinely want to make an impact. However, this perception that has been built over the years and it will take serious amount of time and effort to change that.
I was talking to the CHRO of one of India's largest private sector banks in India and we were discussing what could be done to change the perception. The need of the hour is for HR teams to reach out to the employees and seek feedback from them. Give the employees an opportunity to freely share their experience dealing with HR and understand their expectations from HR.
The feedback may be hard-hitting and difficult to digest but then what you don't measure,you will never improve.. This feedback will help HR put in tangible actions to improve the general perception.
This will go a long way in improving the faith employees have in the HR teams and this will in turn lend itself to superior engagement & retention. Its high time that HR works on improving their own brand image.
HR departments should go out there and get real time feedback from the employees on how they are performing. Its takes some courage and guts but then, it's the only way to improve the current perception.
Reach out to AceNgage if you would like us to build a HR scorecard specifically for your organisation
Happy to hear your views & ideas.
3