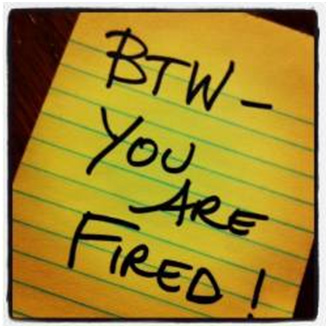 Unlike in the past, we hear of employees being laid off a lot more often these days and rightly so. While it may not and should not be the first option it's almost always in the best interest of the organization.
We are all dependent on our clients and if we lose business it's natural to ask the employees working on that particular project to leave. In a way they have also been responsible for the performance of that project so should be accountable.
That said it's important that the organization deals with it correctly to help the employees handle it better. We should be conscious that not having a job suddenly would cause a huge impact to them and their families A few things that companies could do better are:
Communicate
Don't keep employees in the dark. Rumor's spread like wild fire and have unnecessary repercussions. Once the organization has knowledge of the closure of a project it's important that they share the information with the team. We always underestimate them. I have heard views that once you inform they may stop coming to work etc. I personally think if you treat the employees with maturity they will always respond in the same way.
Look for opportunities internally
Before handing them the pink slip, look for roles internally. With some amount of training they may be of great value. They will also be grateful to the organization and the sheer goodwill that the organization generates could be very helpful.
Hire an outplacement company
Today there are companies that specialize in this activity. They will help the employee get a role with another organization. They also offer resume writing services, interview coaching and compensation advice as part of outplacement services. They help in reaching out to prospective employers and arranging for interviews.
Speak to competitors
You know your competitors best and you know who needs your employees the most. It's very easy for the head of HR to pick up the phone and speak to another HR head and look for opportunities in that company.
Get a counselor
Some employees may be affected a lot more than the others. A psychology counselor can help the employee face the situation better. These are hard times and some situations need to be handled sensitively.
Have a proper send off
Take extra care to give them a good farewell. They need to feel that the company cared for them but were forced to take that decision due to business needs. Who knows the Organization may want to re-hire these employees in the future.
AceNgage specializes in conducting exit interviews for several organizations and I have included a specific verbatim below, that will give a sense of what employees go through when Organizations don't communicate effectively.
"There is a lot of instability in the organization as many accounts have been closed down. Most of the projects which were to be renewed by the organization lost the bid due to which they lost the projects. Also the bench policy is not very employee friendly. Since there were hardly any projects available I knew I would eventually be asked to leave. I noticed that my fellow colleagues were told to put down their papers although some of them have been brilliant performers. This made me believe that the management is not even considering the track records of the employee before telling them to leave. I did not want a situation where I have been asked to put down my papers because I knew this would affect my career graph and more importantly I also had a family to look after. The management was not even willing to give any clarity about this situation. There were rumors floating around and some people told me I would not be asked to leave while others were saying maybe not . I did not have any reassurance from the Organization and none of the senior leadership team came and spoke to us
This ambiguity led to a lot of uncertainty and hence I decided to go ahead with my resignation. We didn't have anybody we could go to and clarify since HR and our managers themselves were unsure. It just seemed like things were being dealt with by the hour and there was no mitigation plan to deal with the situation"
Since every employee is considered to be an asset to the organization, it is very important that such a situation is handled with care, not only for those who are laid off but also for the ones who would be continuing their employment. The ones who are asked to leave definitely need help but the ones who remain also need reassurance about their own future.
5